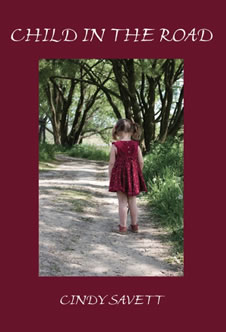 Published by Parlor Press
2007
Available from your local independent bookstore or from amazon.com. You can also buy it directly from the publisher in three forms:
Paper, $15.00
Cloth, $30.00
PDF, $9.99
. . . . . . . . . . . . . . . . . . . . .


Reviews

"The form-giving work of poetry," writes Susan Stewart in Poetry and the Fate of the Senses, "is to counter the oblivion of darkness." That poetry can somehow bring both reader and poet up from the depths underlies the poems in Cindy Savett's first book, Child in the Road. The collection of poems can be read as one extended work in which the author at turns mourns, prays, and rages...
--Pamela Hart
Galatea Resurrects
[read the full review here]


I could not read this book without tearing up. It is essentially a book of grief and commemoration of the loss of a child. Savett's writing is very graceful, so the book feels more like a writing through of grief than a screaming lament...
--Bill Allegrezza
The Daily Glance
[read the full review here]
. . . . . . . . . . . . . . . . . . . . . .

Child in the Road is a mother's response to the sudden death of her young daughter, a rendering of the wide range of emotions experienced afterwards--not description, but an expression of grief from its center. The poems pull vivid imagery from the deepest layers of the unconscious, postcards from a sleepwalker unable to find rest, waking again and again in the wrong story. Who is alive and who is dead? What does it mean to go on living, "eyes searching / under the earth"?

. . . . . . . . . . . . . . . . . . . . . . . . .
Praise for Child in the Road

With a rare combination of intensity fused to grace, the poems in Cindy Savett's first collection, Child in the Road, feel as if they might have been written by a sailor who walked the plank and disappeared into the depths. The poems care nothing for the events or ordinary logic of life on land. They never come up for air--and don't seem to have to. It is as if Savett created each line with an extraordinary lung capacity, so that her poetry can live at the bottom of the ocean of the unconscious--enabling us to live there, too.... The poems shape a brilliant coral reef discovered in the waters of a turbulent dream.
--Molly Peacock
author of Cornucopia: New & Selected Poems


I read Child in the Road as one long poem, lyric, meditative, wheeling, fierce; for all its richness of language, it seems to be reaching for some place beyond language, from which to mourn the death of a young child:
bless this plate of bones
bless this twisted flight
this first of hours
bless this carrying horse
knees bent
on Mother's Trail.
--Jean Valentine
author of Break the Glass
and the 2004 National Book Award
winner, Door in the Mountain
. . . . . . . . . . . . . . . . . . . . . . . . .